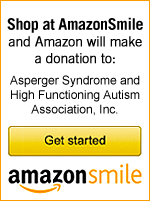 The
characteristics
and
behaviors of individuals on the autism spectrum

Join
and Sign up for our E-LIST
If you have not already joined us,do it now! Go to the top of this page
and click on JOIN E-LIST. You will receive news articles,
research abstracts and news of our group in
your regular email a from AHA's e-list.
Once a member you can check back and search all the
interesting past articles.
Join AHA and Support Us!
If you have not already done so go to BECOME A MEMBER and join online or download a member brochure. You will have access to special member fees at our conferences, the AHA newsletter On The Spectrum, and the ability to tap into our experience and knowhow on resources and referrals through our hotline and email.
Attend meetings
We have many types of monthly support and informational meetings. Some support meetings are for parents of
school-age children, others for parents of older teens
and adults, one is for teens with an autism spectrum
diagnosis (Asperger Syndrome (AS), High Functioning
Autism (HFA), Pervasive Developmental Disorder (PDD))
and one for adults with an ASD. We also have a support group for grandparents.
We offer DAYTIME AND EVENING SUPPORT MEETINGS from Montauk to Manhattan:
  Meetings are located from the East End of
Long Island in Suffolk County, to mid-Suffolk County in Stony Brook and Brentwood, Nassau County, Queens
and Manhattan. Specific dates, times and locations can
be found on the Support pages in the dropdown above.
We also have an Evening
Support Meeting for parents of older teens and adults.
We offer support meetings for older
teens and adults (18 and older) monthly on Saturdays
on Long Island in partnership with GRASP
(The Global and Regional Asperger Syndrome Partnership),
for individuals on the spectrum. Family members are
welcome to attend the first one or two sessions but
the focus is primarily for individuals on the spectrum.
We offer support meetings for adults (18 and older) monthly on Thursdays in NYC in partnership with Spectrum Services for individuals on the spectrum.
We
offer a Teen Support group
in partnership with GRASP,
also on Saturdays for ages 13-19. This is for teens
only, family members may sit in the waiting area and
converse with one another.
We
know, first hand, how difficult it can be sometimes
to attend meetings. However, we urge you to make the
effort. You need the support (and we need yours). Support
meeting dates, times and locations may be accessed on
our website under Support.
For Information Specific to Autism Call
Autism/Asperger Resource Center (AARC) (www.kumc.edu/aarc)
Phone: 913 588-5988 or 5955
Email:[email protected]
Indiana Resource Center for Autism (IRCA) (www.iidc.indiana.edu)
Phone:812 855-6508
For Information on Disability Laws (eg IDEA) Call
NICHCY (National Information Center for Children and Youth with Disabilities) (www.nichcy.org)
Phone:1-800-695-0285
ACCES-VR (Adult Career and Continuing Education Services-Vocational Rehabilitation)
offers access to a full range of employment and independent living services that may be needed by persons with disabilities through their lives from transition for students to adult services; vocational rehabilitation services for working age individuals with disabilities; and independent living services for people with disabilities of all ages.
For the Vocational Rehabilitation District Office in Your County Click Here.
For General Information:
Phone: 1-800-222-JOBS(5627)
Email: [email protected]
---
If You Are New to the Diagnosis, A Place To Begin Reading
Editorial opinion: Medicine is still researching the differences between High Functioning Autism and Asperger Syndrome. Understand that treatment for both diagnoses in school, at home and in the community, is the same.
Please see our Suggested Reading List for our suggested books.
A
booklet from OAR
that is free (for downloading) or which can be mailed
to you for a small charge is called An Educators Guide
to Asperger Syndrome. Go to Resources at the top of
their website and then to Recommended Reading. You will
find this publication at the bottom of the list. This
is a wonderful resource compiled from the writings of
Brenda Smith Myles, Ph.D., her graduate students and
others.
Asperger
Syndrome: A Guide for Parents and Professionals, by
Tony Attwood (1998)
Asperger
Syndrome: A Guide for Educators and Parents, Brenda
Smith Myles and Richard L. Simpson (1999)
Parent/Person with Autism Narratives:
Thinking in Pictures, by Temple Grandin (1995)
Emergence: Labeled Autistic, by Temple Grandin & M. Scariano (1986)
A Parent's Guide to Autism, by Charles Hart (1995)
More Extensive Reading Lists and Books Can Be Obtained by Contacting:
Autism Society of North Carolina, Book Store: 919 743-0204
Indiana Resource Center for Autism: 812 855-6508
Future Horizons: 800 489-0727
Autism Resource Network, Inc. 612 988-0088
Some of our members find it useful to subscribe to some of the following:
Autism Spectrum News is a nonprofit quarterly publication that provides readers with a trusted source of news, information and resources on scientific research, evidence-based clinical treatment, and family issues that are of vital interest to the autism community.  Directed towards a broad audience of families, treatment professionals and service providers, Autism Spectrum News provides free and full readable copies of current and back issues on its website.  www.mhnews-autism.org
Autism Spectrum
Quarterly – Published by Starfish Specialty Press, editor Diane Twachtman-Cullen, Ph.D. CCC-SLP, senior editor Liane Holliday Willey, Ph.D. this quarterley publication incorporates Carol Gray's Social Story
newsletter The Morning News. Subscribe at: http://www.asquarterly.com/subscribe.html
Intervention in School and
Clinic – You may purchase a subscription to this journal from
Pro-Ed, Inc. (800) 897-3202.
On the internet
Our website (www.ahany.org) offers information and resources about local meetings and resources as well as resources all over the internet.
The
following websites may be useful:
Part
200 Regulations:        http://www.p12.nysed.gov/specialed/lawsregs/
NYSED-Elementary,
Middle, Secondary, Continuing Ed : http://www.emsc.nysed.gov/
Part
100 Regulations:    http://www.p12.nysed.gov/part100/home.html
Federal
Law IDEA '97:    http://oldsite.cec.sped.org/AM/Template.cfm?Section=Instruction_and_Curriculum&ContentID=5519&template=/CM/ContentDisplay.cfm
Federal
Law IDEA '04: http://www.wrightslaw.com/idea/law.htm
AHA does not endorse or recommend any product or treatment. This site is intended for informational purposes only. Please consult with experienced professionals to determine the most effective treatment for your own child as each child and situation are unique.