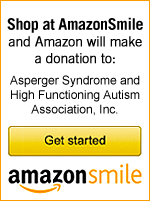 Purchasing any books through the links on our
Suggested Reading List will help AHA raise needed funds, while
giving you the same Amazon.com service and discounts. Thanks
for your continuing support!
We are also pleased to link directly with the Autism Asperger
Publishing Company (AAPC)
which has an extensive list of books and videos on autism
spectrum disorders which you may purchase online.
Data too large for file format
Ask and Tell: Self-Advocacy and Disclosure for People on the Autism Spectrum
Ruth Elaine Joyner Hane, Kassiane Sibley, Stephen
M. Shore, Roger Meyer, Phil Schwarz, Liane Holliday
Willey
Amazon.com Price: $12.29
The goal of better mutual
understanding through self-advocacy generally requires
disclosure about the individual's placement on the
autism spectrum, and involves a degree of risk.
Offering practical ideas and advice backed by the
real-life experiences of the authors, this book
is useful for individuals with all conditions, parents,
and others who work, live, and care about them.
– Stephen Shore
Asperger Syndrome
Ami Klin (Editor), Fred R. Volkmar (Editor), Sara S. Sparrow (Editor)
Amazon.com Price:$52.49
An exploration of a social disorder characterized by ….an inability to form friendships, and intense absorption in special interests. The editors (all of the Yale Child Study Center, Yale U.) present 16 contributions that discuss clinical and research aspects of the issue.
The papers discuss behavioral aspects; the relationship of genetics and neurobiology to the disease; diagnostic constructs; and assessment; treatment, and intervention. (Book News, Inc.)
Asperger Syndrome: A Guide for Educators and Parents (Paperback)
Richard L. Simpson, Brenda Smith Myles
Amazon.com Price:$30.00
(apparently out of print but can be bought at Amazon through resellers new or used)
An overview of the characteristics of HFA with information for academics and social and behavioral supports to enhance success in school and home. Includes a chapter written by parents of children on the spectrum.
Asperger Syndrome and Adolescence: Practical Solutions for School Success

Brenda Smith Myles, Diane Adreon
Amazon.com Price: $ 14.66
"A stunningly accurate portrayal of the challenges adolescents with Asperger Syndrome face in school. Of at least equal importance, this "must-have" resource is jam packed with sensible and easy-to-implement solutions for teachers, aides, parents, and others who will ultimately give these emerging adults the tools they need to navigate through the turbulent middle and high school years…and beyond." Stephen M. Shore Author of Beyond the Wall
Asperger Syndrome And Difficult Moments: Practical Solutions For Tantrums, Rage And Meltdowns

Brenda Smith Myles, Jack Southwick
Amazon.com Price: $ 17.12
Highly recommended. Co-authored by an associate professor of Special Education and a social worker; both with extensive experience in research, practice and education of the High Functioning population, this book offers understanding of the escalation of behavioral outbursts and tantrums and practical solutions and strategies. This is a yet newer edition, in paperback.
Asperger Syndrome and Your Child: A Parent's Guide

Michael Powers, Psy.D.
Amazon.com Price: $13.46
A clearly written book by an assistant professor at the Yale Child Study Center and director of the Center for Children with Special Needs in Connecticut. This is a much-needed resource for parents and professionals looking to understand more about Autism Spectrum Disorders from a popular speaker who works closely with our friends in the Connecticut parent group.
Asperger Syndrome Employment Workbook: An Employment Workbook for Adults with Asperger Syndrome

Tony Attwood, Roger N. Meyer
Amazon.com Price: $ 35.96
This practical manual will enable people diagnosed with Asperger Syndrome and high functioning autism to deepen their self-understanding and appreciate their value as working individuals. Through step-by-step self-assessment, the reader is encouraged to engage actively in a self-paced exploration of their employment history, and ultimately to identify the work best suited to their personal needs, talents and strengths. The workbook contains practical exercises, with clear explanations and examples of how to use them. Asperger Syndrome Employment Workbook will also be an essential guide for professionals, career advisors and vocational counselors as it provides in-depth guidance and research on fulfilling employment for adults and adolescents with Asperger Syndrome and high functioning autism.
Asperger's From the Inside Out: A Supportive and Practical Guide for Anyone with Asperger's Syndrome

Michael John Carley, Ed.D, Peter Gerhardt

Amazon.com Price: $14.40

Michael John Carley was diagnosed with Asperger's Syndrome at thirty-six, when his young son received the same diagnosis. He is now the Executive Director of GRASP, the world's largest Asperger's organization.

This fascinating book reveals his personal experience with the confusion and trauma associated with this condition, and offers insights into living an independent and productive life.
Asperger's Syndrome: A Guide for Parents and Professionals
Tony Attwood, foreword by Lorna Wing
Amazon.com Price: $ 13.79
This outstanding book is by a practicing clinical psychologist specializing in the field of Asperger's syndrome. He has met and worked with several hundred individuals with this syndrome, ranging widely in age, ability and background. In a well-written, easy to read format he gives a description and analysis of the unusual characteristics of Asperger's syndrome, with strategies to reduce those that are most conspicuous or debilitating.

The Complete Guide to Asperger's Syndrome (Softcover Edition)

Tony Attwood

Amazon.com Price: $ 16.04
Grounded in research from close to 30 years of direct experience, yet very accessible, Dr. Attwood bring understanding of Asperger Syndrome to new heights. Peppered with personal accounts and clear explanations… this book is a "must-have" for everyone, including those with Asperger Syndrome.
—
Stephen Shore, AHA Advisory Board member and author of Beyond the Wall: Personal Experiences with Autism and Asperger Syndrome.
Asperger Syndrome or High-Functioning Autism? (Current Issues in Autism)
Edited by: Eric Schopler, Gary B. Mesibov & Linda J. Kunce
Amazon.com Price: $ 109.00
A general overview presenting diverse opinions on diagnosis and assessment by many leaders in the field of autism including Lorna Wing, Christopher Gillberg and Carol Gray. It contains useful essays including pieces written by people on the spectrum of autism.
Autism and Asperger Syndrome

Frith, Uta, editor.
Amazon.com Price: $ 47.53
A classic text which was the first to present the English translation of Hans Asperger's original paper describing the syndrome which bears his name. Editor Uta Frith includes important contributions by some of the world's leading experts, the "who's who" of autism research.
Cognitive-Behavioral Therapy for Adult Asperger Syndrome (Guides to Individualized Evidence-Based Treatment)


Valerie L. Gaus

Amazon.com Price: $30.02
By AHA Advisory Board Member Valerie Gaus, Ph.D. this invaluable resource for therapists is clearly written and provides research-based strategies for addressing the core problems of Asperger syndrome (AS) and helps clients manage frequently encountered comorbidities, such as anxiety disorders and depression. Detailed case examples illustrate the complexities of AS and the challenges it presents in daily life, relationships, and the workplace.
The Curious Incident of the Dog in the Night-Time (Today Show Book Club #13)

Mark Haddon
Amazon.com Price: $17.42
Christopher John Francis Boone knows all the countries of the world and their capitals and every prime number up to 7,057. He relates well to animals but has no understanding of human emotions. He cannot stand to be touched. Although gifted with a superbly logical brain, Christopher is autistic. Sound familiar? Many people on the spectrum, family members and others in their lives feel that this book has touched a chord and is also an enjoyable read.