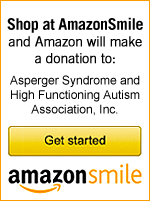 AHA,
THE JOURNEY, SO FAR
by Maryann O'Shaughnessey
(additions by Bernice Polinsky and
Pat Schissel)
Our first meeting was in the spring of 1988 under the auspices of the Department of Child Psychiatry at Stony Brook and the direction of John C. Pomeroy, M.D., to whom we are most grateful. Dr. Pomeroy, at that time the Director of Child Psychiatry, O.P.D., University Hospital at Stony Brook, was doing research on high-functioning autistic-like children. As his study progressed, it became apparent to him that a number of families were in need of a support group where parents could share experiences, develop and learn about potential resources and discuss management of our children's problems.
'Autistic-like' was a medical diagnosis, not an educational
classification; knowledge and understanding of autism
as a spectrum disorder were virtually non-existent.
No needs of individuals with higher functioning autism
or pervasive developmental disorder were being met in
the late 1980s. Most disheartening was the complete
lack of identification of children with autism with
average or above average IQ's. Instead, they were
medically misdiagnosed, educationally misclassified
and inappropriately served. ("He can't be
autistic, he talks." "He can't be
autistic, he doesn't just sit in a corner and
rock." "This is a happy well adjusted, emotionally
disturbed child." "Why do you want your
child to be autistic?")
Our children were in schools all over Long Island, we had no way to find each other and most of us had never met other parents with children like ours. One year later, with the support of each other, continued encouragement and support from Dr. Pomeroy, and a membership of 24 parents, we began to become more autonomous. We have continued to grow in knowledge, in expansion of ways to reach our goals, and in numbers. Today we have over 700 members – parents, professionals, family members and individuals on the spectrum of autism.
Our primary purpose was, and is, to support one another as we advocate for the unique needs of children and adults with an Autism Spectrum Disorder (ASD).
Our goals are:
To increase awareness and knowledge of ASD among the professionals who diagnose, treat, educate or provide services.
To attain appropriate educational programs, effective social skills training, increased social and recreational activities, meaningful employment, and sufficient and satisfactory independent living accomodations for those with ASD.
To develop a strong network of parents supporting one another through the challenges of daily life.
To provide parents and professionals with a forum where they can exchange pertinent information.
In keeping with our primary purpose and the fundamental goals of educating parents and professionals, and of increasing awareness of Autism as a spectrum disorder that occurs in degrees, some of our most successful accomplishments to date are:
Monthly support groups: day and evening
meetings in Nassau County, Suffolk County (including
the East End), Queens and Manhattan. Some are focused
on the needs of parents of school-aged children, and
one on the needs of parents of older teens and adults.
In partnership with GRASP
(Global and Regional Asperger Syndrome Partnership)
we have two groups, one for individuals on the spectrum
18 years and up, facilitated by adults with Asperger
syndrome and a Teen Group facilitated by the executive
director of GRASP, and a group for grandparents.
Two-day conferences, highly successful
and held annually since 1994, targeted for teachers
and other professionals focusing on the educational
needs of children with HFA/AS/PDD. We feature nationally
known professionals such as John C. Pomeroy, Tony
Attwood, V. Mark Durand, Valerie Gaus, Lynda Geller,
Carol Gray, Amy Klin, Linda Kunce, Catherine Lord,
Brenda Smith Myles, Diane Twachtman Cullen, and our
overwhelmingly popular Teen Panel. Two libraries,
one for our Suffolk members, one for our Nassau members.
Both contain current and useful books, videos, and
periodicals.
On The Spectrum, AHA's newsletter,
distributed to over seven hundred parents, professionals
and other supportive members.
www.ahany.org,
a website created and maintained with a comprehensive
reading list, support group information, links to
pertinent internet sites, and a mailing list to disseminate
timely and useful information and articles of interest.
The AHA Abby Irwin Family Picnic,
annual picnic hosted since 2000, where families
have bonded, young people on the spectrum have made
lasting friendships, siblings have found special connections
and extraordinary memories have been created. Named
after a beloved member and mom Abby Irwin.
Monthly family bowling days since 2003,
held in two locations, one in Nassau County and one
in Suffolk County.
1988 – Advocates for High-Functioning
Autistic-Like Children
1993 – Advocates for High-Functioning
Individuals with Autism/Pervasive Developmental Disorder
1997
– Advocates for Individuals with High-Functioning Autism,
Asperger's Syndrome and other Pervasive Developmental
Disorders (AHA/AS/PDD)
2007
– Asperger Syndrome and High Functioning Autism Association
(AHA)
The
changes in our name are due to the continuing fluctuation
in diagnostic terminology, politically correct language,
our efforts to be all-inclusive, and the too-frequent
use of euphemisms for "autism." 
2010 – It is hard to believe that we have
not made an entry onto these pages since changing our
name in 2007 but a glance at the other pages on our
website or a subscription to our electronic listserv
can tell you how very busy we are daily. JOIN US!
2010–11
AHA moved our offices in April of 2010 to Broadway in Amityville and have our board meetings and daytime Nassau/Western Suffolk support meetings at this location. In September of 2010 AHA opened a satellite in Manhattan at Spectrum Services. Founded by Lynda Geller, Ph.D., Spectrum Services is a cooperative of independent practices and organizations specializing in Asperger Syndrome and related conditions. More about Spectrum Services and AHA.
---

THE STORY BEHIND THE ORIGINAL LOGO
by Pat Long
In 1989 my son, Edwin, was aging out of preschool. He attended Just Kids for 2 years. I brought him there because he had language issues and severe behavioral problems. He screeched all the time, lined up his toys, his socialization skills were non-existent and he had little to no eye contact. I was told he had some autistic tendencies and a severe language delay. No one ever told me more. When it came time to prepare for kindergarten, the social worker there told me it was time for me to see his file. It was then that I found out that the diagnosis for my son was PDD. I immediately started my search for more information on this subject and found little to nothing.
One day, I was looking through a local free paper and came upon an ad. To my utter surprise, this same article described my son. To a T. Not only did I find a direction but I also found what I needed most – other parents with children like mine. I felt so alone for such a long time and now, I had hope. This small group of parents were running support meetings and providing others with answers. I went to their very next meeting and immediately knew that this was where I was meant to be.
The group was small but growing steadily. I was hooked – I found two wonderful women who have given me information, support and most treasured of all – long, lasting friendship. These women are still involved with the group and are a constant source of inspiration and comfort. Maryann O'Shaughnessy was the president at that time and her son, Michael is represented as the tallest boy in the logo. Phyllis Francois was handling membership and the newsletter at that time and her daughter, Mae, is the girl in the middle. My son Edwin is the smaller boy and they are all shown looking into the sunrise on a brighter future.
I created this logo to symbolize the mission statement of this group. My heart and soul have been invested in reaching out to as many families as we can; having a symbol that portrays a positive image is the most important thing we have in that primary step of connecting with all those families who deal with the challenges of raising a child with ASD.
My purpose in writing this article is to give you, our members, a piece of the history of this really wonderful group.
•

Brochure
•

Application
•

History
•

Awards
AHA does not endorse or recommend any product or treatment. This site is intended for informational purposes only. Please consult with experienced professionals to determine the most effective treatment for your own child as each child and situation are unique.