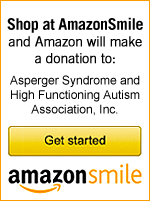 All
gifts are gratefully acknowledged and enable us to
share and disseminate information about the Autism
Spectrum (High Functioning Autism, Asperger's Syndrome, Pervasive Developmental Disorders and related conditions to individuals, their families and the
professionals who work with them.
OR
Contributions can be sent by check to:
AHA Association
P.O. Box 916
Bethpage, NY 11714-0916
We are a 501(c)(3) tax exempt charity
Please
make checks payable to AHA Association.
If you are making a donation to us in memory of an
individual or in honor of a birthday, anniversary
or other special event, please indicate the individual
or event and their address so that we can send an acknowledgement.
---
There are also many ways to support

our group. If you like to donate your time email [email protected] and you will be contacted.
United Way
If your company participates in a United Way in the workplace campaign, consider designating us as your charity of choice.
Combined
Federal Campaign (CFC)  Long Island/NYC # 56057
Please encourage family and friends in the military,
postal system and US Government to support us through
the Combined Federal Campaign.
With the American Express
Donation Site, giving has never been so easy or
rewarding Give to your favorite charity by
donating with your American Express Card. Donations
can be made in dollars or Membership Rewards® points. Your dollar donation is tax deductible
and you will receive an e-mail receipt that meets
IRS requirements as a record of your contribution.
The site also enables you to set up recurring
donations to your favorite charity. Plus, you
can earn one Membership Rewards point for virtually
every dollar you donate on an eligible, enrolled
Card.
Visit http://www.americanexpress.com/give for more information.
* To be eligible to

earn bonus points, you must be enrolled in the

Membership Rewards program at the time of the

donation and must charge your purchase on an eligible,

enrolled American Express® Card. Terms and conditions

of the Membership Rewards program apply. For more

information visit http://www.americanexpress.com/rewards.

Donation of Membership Rewards points are not

tax deductible.
Please note: American Express will deduct
a transaction fee of 2.25% from your donation
to cover processing costs. The charities will
receive your donation amount, minus the 2.25%
American Express processing fee, from our partner
JustGive. This transaction fee is similar to or
less than the processing fee the charity would
pay if you were to charge your donation with your
American Express Card through any other means
(i.e., over the phone to the charity, through
the charity's website, etc.). You will not be
charged any additional fees for using the American
Express Donation Site and the full amount of your
donation is 100% tax-deductible.
AHA does not endorse or recommend any product or treatment. This site is intended for informational purposes only. Please consult with experienced professionals to determine the most effective treatment for your own child as each child and situation are unique.